Each year on Halloween, children from the neighborhood arrive at our door. They have dressed up as their favorite heros or in an over-zealous Pinterest mom's vision. For a year, they have waited to gather next to the lighted jack-o-lanterns by our door — with their hollow jack-o-lanterns in their hands — and ring the door bell. The door opens. What comes next is a holiday phrase second only in popularity to Merry Christmas.
"Trick or treat!" they choir.
With that, we hold out before them a bowl of candy to choose from.
But what if it wasn't a bowl of candy? What if it was a bowl of rocks? Or a bowl of fish? Or a bowl of the highest quality protein shake powder?
What's the problem? Of course, it's that we didn't give them what they expected to get.
How DOES CANDY Relate to Improving Your Website's SEO?
The same problem often happens with websites. Of course, we want to be found through organic search on Google, Bing, etc. We want seekers to find us so we can help them. But when they ask the question by putting in search terms (a.k.a. keywords), our websites may be giving them rocks, fish, or protein powder – or worse yet, not getting the chance to give them anything at all.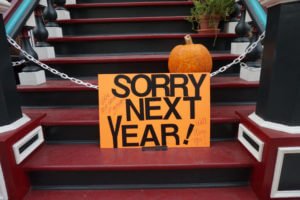 We may be keeping them away before they ever get to the door!
If we want potential visitors to find our site, we must put information on our site that does a great job anticipating their questions. Our website becomes valuable to visitors when it contains solutions to the problems they desire to have solved.
Check out what Moz.com's Beginners Guide to SEO says about this:
Essentially what Moz recommends is to give your customers what they need.
Just as we anticipate and buy candy before the trick-or-treaters come asking for it, we need to anticipate and prepare for what our customers will ask.
That is, give them your solutions when they come looking for it.
We Can All Improve Our Website's SEO!
To give a personal example, I want to illustrate how I completely failed at this when I began writing this very article!
My original title was "The Number One Way to Improve Your SEO" — sounded good to my ears, but I realized no one would find it. No one asks Google "What's the number one" anything! Instead, people ask, "What is the best…"
Additionally, I failed to include a keyword searchers would obviously use: "Website."
So, I thought about my audience, how they would search for the answer to their problem, and fixed my title by including keywords they would be using in their Google search.
My revised title reads:
The Single Best Way to Improve Your Website SEO
With those changes, I took the fish out of the bowl and replaced it with candy.
Take a look at the content on your site — page titles, headings, and copy. Are the keywords your potential customers using in Google searches included in those areas?
By simply wordsmithing these areas of your site to include those keywords, you would begin to provide the answers to your customers' questions.  This would eventually rank you better on Google and drive more traffic to your site, leading to increased sales or lead capture or whatever is your business' needed outcome.
The single best way to improve your website SEO? Put candy in the bowl before they ring Google's door bell.